Coach's Collection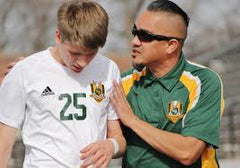 We work with coaches everyday and know how busy their schedules can be.
That's why we stock the small, but important supplies needed to ensure the game, match, or meet runs smoothly and efficiently.
Scorebooks
Coach Play Boards
Timers
Whistles
First Aid kits and ice paks
All levels and sizes of inflatables for baseball, basketball, soccer, volleyball
All baseballs and softballs for play and practice for all levels
If we don't have it in store, there's a good chance we can get it for you!