Athletic Shoes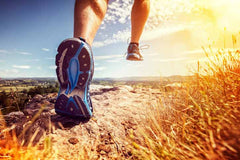 Find Adult running shoes from tops brands, such as Saucony, Asics, and Nike. You'll also find Youth and Adult footwear for your favorite sport. here's what we offer:
Adult Running, cross-training and walking shoes for men and women from Saucony, Asics and Nike
Sports specific shoes in Youth and Adult sizes:
Baseball and Softball cleats
Track sprint, mid,and distance spikes
Throwers' shoes
Outdoor and Indoor Soccer cleats
Football cleats, both molded and with removable cleats
Cross Country long distance spikes
Volleyball gum-bottom footwear from Asics and Mizuno
Wrestling shoes from Asics and Nike
Basketball shoes by Nike and Under Armour
Pictures are representative only. Store stock may vary.